About Me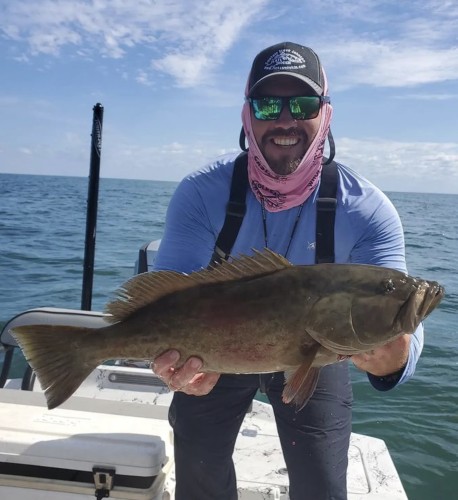 Welcome to Flats Snookin! My name is Captain Steve Johnson. A U.S. Coast Guard Licensed and insured Captain. Licensed Florida Fishing Guide, and the only Certified Florida Friendly Fishing Guide on the SportsCoast. Certified in First Aid and CPR. A Florida Native, living and working here on the Sports Coast. My passion for fishing began at the young age of 5. Fishing the seawalls, docks, and rock jetties in a canal off Marker 31 in the Pithlachascotee River. Plucking crabs and snails off the seawalls, Sheepshead, Redfish, and Mangrove Snapper were always the serious takers. Fishing for me whether in a tournament, or a day with the family continues to surpirise me and always leaves me hungry to learn more about this ever changing ecosystem and the species who inhabit it. Conservation is key, and no matter the size, every fish is a good one, and always handled with the upmost respect. I love this ecosystem, and want to see the next generation enjoy it just as I have for the last 30 plus years.

Flats Snookin is an Inshore/Nearshore charter offering 1/2 day, 3/4 day, and full day trips. Specializing in targeting most of the inshore species including, Snook, Redfish, Trout, Tarpon, Cobia, Grouper, and Scallops. All tackle, bait, and drinking water is provided for your trip. I provide a charter that is customized to any angler at any skill level, and kids are some of best anglers out there.

As an educator for a little more than a decade. I spent countless days teaching students ranging from 4 to 80 years of age. Teaching is at the core of guiding and was the catalyst encouraging me to share my beautiful home with clients on my boats. Fishing is a science. One that is ever changing, sometimes on an hour to hour basis. Time on water is the key to success and tuning into environment supersedes all else. As every angler knows, there are two things we cannot control, the weather, and the fish. All we can do is put ourselves in the best possible situation, and let nature take control. Remember any day on the water is a good day.

My Family and I have 3 rules when on the Boat:

1. Be Safe
2. Have Fun
3. Catch lots of Fish

Thanks so much for taking the time to check out Flats Snookin, and I'll see you at the dock!